Sierra Premium Blend 2-Cycle Marine Engine Oil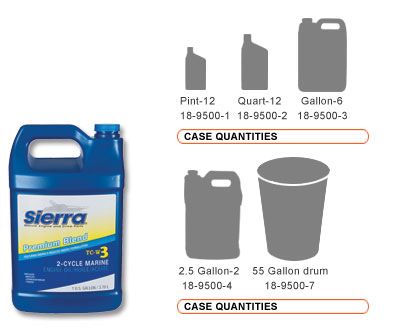 Sierra Premium Blend 2-Cycle Marine Engine Oil
Sierra TC-W3 is a high performance lubricant that has been manufactured and designed to meet and exceed all (Domestic & Import) engine manufacturers warranties. Exceeds JASO, ISO, API and NMMA, for advanced generation 2 cycle lubricants.
• Ideal for oil injection systems or pre-mix applications.
• Optimum burnability for smokeless combustion. Runs cleaner, burns cleaner.
• Significantly reduced aquatic toxicity to fish compared to other outboard oils on the market today.
• Maximum lubrication and detergency allows engine to run smoother and more efficiently.
• Reduces ring sticking, deposit formation and exhaust port blockage. Less friction allowing for easier starting.
• Formulated to improve performance and extend engine life by reducing wear on critical engine components.
• Ideal for today's high horsepower outboards that demand maximum performance.
• Excellent performance with lower quality fuels.
• Exceeds the industry standards established in 1997.
• Graduated bottle and mixing ratio chart simplify pre-mixing.
• Formulated for all PWC (Personal Water Craft), power equipment, and marine applications where TC-W3 is required.
• Guaranteed and backed by our famous Sierra comprehensive warranty. (Will not void your engine manufacturer's warranty).
• When looking for the best. . . look no further than Sierra "Blue" Premium TC-W3!